"Your past is a strength for your future, not a reason to leave your roots."
In 2019, Chile Nativo signed a cooperation agreement between the Municipality of Torres del Paine, in which we promised to present educational support projects to two rural schools within the commune – Escuela Rural Cerro Guido & Escuela Rural Ramón Montaner. These projects take place in the form of environmental education and youth outings to Torres del Paine National Park – the most important tourist destination of the region where both rural schools are located. The idea is to teach the students the significance of their natural environment and its relation to local tourism, as well as the importance of learning English which can provide a path for future career opportunities and both personal & socioeconomic development
Last season, Chile Nativo founder Gonzalo Fuenzalida visited the two rural schools located in Cerro Castillo – the commune lying just outside of Puerto Natales and where Torres del Paine National Park is located. The national park is the most important tourist destination in the Magallanes region. The schools sit quietly nestled in the pampas surrounded by windswept valley landscapes, wide open skies, and the symbolic Horse Monument in the commune's center. Youth & community recycled art projects color the communal outdoor spaces which reflect natural elements related to the regions unique culture, landscape, and future visions. Children work together in large single classroom settings where montessori education methods are generally practiced due to the small number of total students. The schoolhouses are filled with abundant natural light, warm wood-burning stoves, and the students' ornate & colorful artwork and projects. The students are engaged together, working on various assignments – whether it be learning about Chile's 16 unique regions, the native flora and fauna, or creating unique art.
Students, along with their professors, join Gonzalo for a group interview in order to find out what the national park and natural environment means to them and their families, and what role English plays (if any) in their daily life. Gonzalo explains that learning English is fundamental for work opportunities in the area since the region is almost 100% dependent on foreign tourists and tourism services. And for students who wish to travel abroad for study or work, English will be an important form of communication in order to be successful.
"We remain hopeful for a safe return to tourism in order to continue our relationship and support of rural youth who will guide us in the future…"
Knowing that many young adults desire to leave the places where they grow up, this educational support initiative strives to teach youth that their past is a strength for their future, not a reason to leave their roots behind. Students from these rural communities have a unique opportunity to turn their small-town life into big opportunities. Learning to appreciate their natural environment and neighboring national park – a pristine destination known as the eight wonder of the world – instills a love and desire in the students to protect the very same place in which they are fortunate to live and can allow them to build a stable and sustainable future.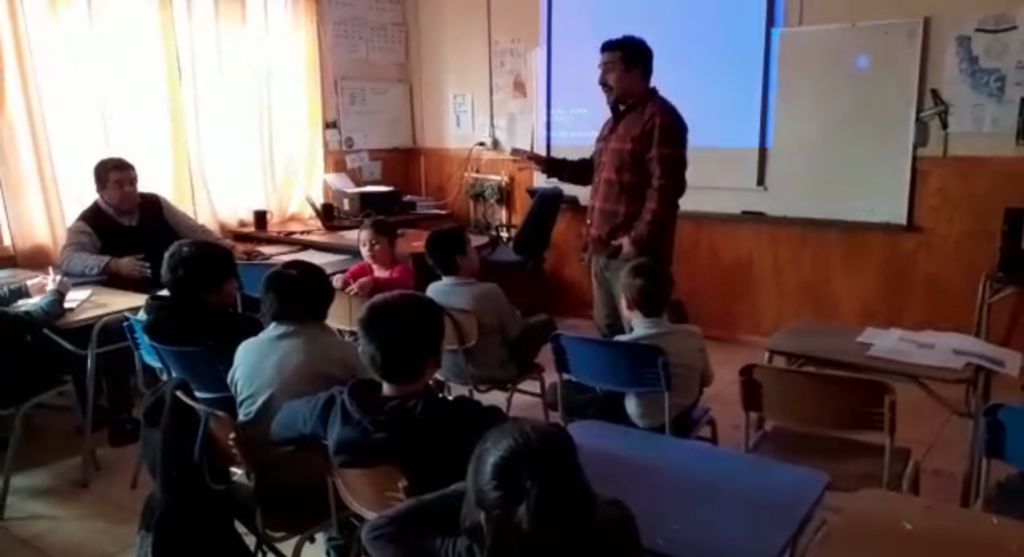 After visiting the students and their schools, more than 20 youth along with two Montessori teachers and Chile Nativo guides participate in an educational outing – traveling 1 hour into the heart of Torres del Paine National Park arriving to the shores of the Grey Lake at
Hotel Lago Grey
. The group is warmly greeted by the hotel's generous staff and the picturesque granite mountains peaks, lush forests, and the impressive lake views which surround this iconic hotel. A delicious welcome breakfast nourishes the students before they begin a 3 hour round-trip navigation on Grey Lake, navigating among floating icebergs with astounding views of unparalleled landscapes and the immense Grey Glacier.