Most people who have heard of Torres del Paine will be able to name its principal attractions and trails. But what of those experiences lying outside the W and O Trek? Here are five of our favorite less-transited experiences.
Winter Multisport Program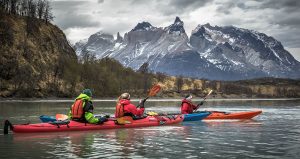 Thought winter was a Patagonia no-no? Think again. While it's true that some trails are closed due to access, there are plenty of things to do in Torres del Paine during the off-season. And for those who can't decide what to do, a multisport program gives a tasting platter of different experiences! From riding horses and fatbikes, to trekking and kayaking—all while avoiding the crowds of summer—there's no better way to stay energized during the winter months.
Discover
The Zapata Valley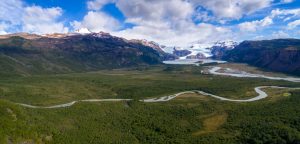 This is Torres del Paine's most ancient valley, one where the trails are empty and the skies are vast. Teeming with lush plant life and ancient history, this is also the location where a treasure from the Mesozoic era was uncovered: 46 Ichthyosaurus "fish-lizard" fossils lying frozen in time by what is now Tyndall glacier. While hiking here your chances of spotting huemuls (Andean deer), foxes, and woodpeckers are also high. Far from the popular routes as it is, hiking in the Zapata Valley is an experience in communal trekking, where your group will carry supplies between themselves in order to set up campsites each night.
Find out more about
The World from Horseback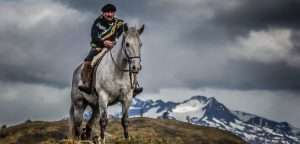 There's another view of Torres del Paine, and it's from in the saddle. Beginners and experienced riders are catered for, as your guides introduce you to the Criollo horses that will show you the way through these southern pampas, down little-used trails, past glaciers and lakes, and on to estancias. "Mate" tea will be a constant source of warmth and energy, as will the tales of the gauchos and the well-deserved Patagonian lamb roast dinners!
Discover more about
Horseback riding in Torres del Paine
Kayak Icy Waters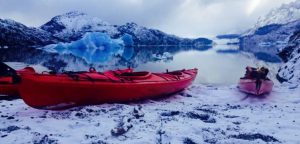 Fancy exploring Torres del Paine's rivers and lakes, with up close and personal views of icebergs and glaciers to boot? Though boat rides are fairly common, not everyone can boast of kayaking these waters—and it's an experience that's well worth it! Kayaking down the Serrano River to the Last Hope Sound, staying at remote campsites each night and accompanied by glaciers and mountains by day.
Explore
3 days of kayaking in Torres del Paine
Dientes de Navarino Trek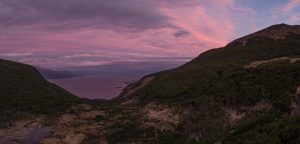 Further south, on Navarino Island, lies a set of tooth-like, spiky mountains. Named for these spires, the Dientes de Navarino trail is unlike anything in Torres del Paine. It's removed, all-encompassing, and of course, beautiful. On it, you'll traverse a number of different types of terrain, cross hills and valleys, and make camp in remote campsites each night. A real winner for travelers who want an uncommon experience!
Hear about