"Tu pasado es una fortaleza para tu futuro, no una razón para dejar tus raíces".
En 2019, Chile Nativo firmó un convenio de cooperación entre la Municipio de Torres del Paine, in which we promised to present educational support projects to two rural schools within the commune – Escuela Rural Cerro Guido & Escuela Rural Ramón Montaner. These projects take place in the form of environmental education and youth outings to Torres del Paine National Park – the most important tourist destination of the region where both rural schools are located. The idea is to teach the students the significance of their natural environment and its relation to local tourism, as well as the importance of learning English which can provide a path for future career opportunities and both personal & socioeconomic development
La temporada pasada, el fundador de Chile Nativo, Gonzalo Fuenzalida, visitó las dos escuelas rurales ubicadas en Cerro Castillo, la comuna que se encuentra a las afueras de Puerto Natales y donde Parque Nacional Torres del Paine se encuentra. El parque nacional es el destino turístico más importante de la región de Magallanes. Las escuelas se sientan tranquilamente enclavadas en las pampas rodeadas de paisajes de valles azotados por el viento, cielos abiertos y el simbólico Monumento de caballo in the commune's center. Youth & community recycled art projects color the communal outdoor spaces which reflect natural elements related to the regions unique culture, landscape, and future visions. Children work together in large single classroom settings where montessori education methods are generally practiced due to the small number of total students. The schoolhouses are filled with abundant natural light, warm wood-burning stoves, and the students' ornate & colorful artwork and projects. The students are engaged together, working on various assignments – whether it be learning about Chile's 16 unique regions, the native flora and fauna, or creating unique art.
Los estudiantes, junto con sus profesores, se unen a Gonzalo para una entrevista grupal con el fin de averiguar qué significa el parque nacional y el entorno natural para ellos y sus familias, y qué papel juega el inglés (si lo hay) en su vida diaria. Gonzalo explica que aprender inglés es fundamental para las oportunidades laborales en la zona ya que la región depende casi en un 100% de los turistas extranjeros y de los servicios turísticos. Y para los estudiantes que deseen viajar al extranjero para estudiar o trabajar, el inglés será una forma importante de comunicación para tener éxito.
"Mantenemos la esperanza de un regreso seguro al turismo para continuar nuestra relación y apoyo a la juventud rural que nos guiará en el futuro ..."
Sabiendo que muchos adultos jóvenes desean dejar los lugares donde crecieron, esta iniciativa de apoyo educativo se esfuerza por enseñarles a los jóvenes que su pasado es una fortaleza para su futuro, no una razón para dejar atrás sus raíces. Los estudiantes de estas comunidades rurales tienen una oportunidad única de convertir su vida de pueblo pequeño en grandes oportunidades. Aprendiendo a apreciar su entorno natural y el parque nacional vecino, un destino prístino conocido como la juventud rural que nos guiará en el futuro ... " the eight wonder of the world – instills a love and desire in the students to protect the very same place in which they are fortunate to live and can allow them to build a stable and sustainable future.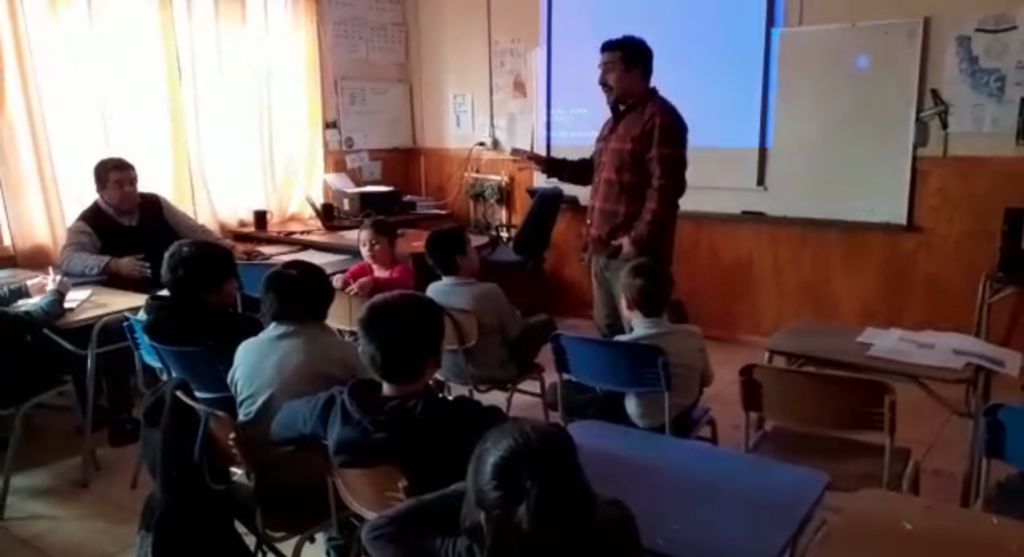 Después de visitar a los estudiantes y sus escuelas, más de 20 jóvenes junto con dos maestros Montessori y guías de Chile Nativo participan en una salida educativa, viajando 1 hora hacia el corazón del Parque Nacional Torres del Paine llegando a las orillas del Lago Grey en
Hotel Lago Grey
. The group is warmly greeted by the hotel's generous staff and the picturesque granite mountains peaks, lush forests, and the impressive lake views which surround this iconic hotel. A delicious welcome breakfast nourishes the students before they begin a 3 hour round-trip navigation on Grey Lake, navigating among floating icebergs with astounding views of unparalleled landscapes and the immense Grey Glacier.