Overview
The first E-Bike program of its kind in Puerto Natales! The perfect 3 day adventure that gives travelers a brand new experience. Enjoy 3 days of riding the newest Giant Talon E-Bikes throughout the highlight spots around Puerto Natales. Navigate across the Señoret Channel to the Estancia Bahia Esperanza Outdoor Park to ride spectacular singletrack trails. Challenge yourself along Rupestre Patagonia's awe-inspiring landscapes where history unfolds in hidden caves and ancient cave paintings. Push your limits as you pedal along the dazzling Laguna Azul with its impressive views of the three Towers. Enjoy a traditional Patagonian BBQ and experience countless opportunities to see Southern Patagonia's beautiful wildlife & flora. This action packed itinerary is perfect for those looking to add the to their Patagonia adventure!
Trip Highlights
• E-Bike private single track trails in Southern Patagonia
• Navigate the Señoret Channel
• Experience 360° view of mountains & fjords at the Last Hope Monument
• Visit the Ernest Helmer Park & Milodon Cave Natural Monument
• Share a delicious Patagonian BBQ
• See the iconic Three Towers from an entirely new perspective!
• Awe in wonder at the beauty of Laguna Azul
• Endless opportunities to see Condors and other local wildlife & flora
• Easily extend your trip or connect with another Chile Nativo adventure!
DOWNLOAD YOUR MAPS:
• PUERTO NATALES
DOWNLOAD YOUR PACK LIST:
• MULTISPORT PACK LIST
Trip length
3 DAYS
Trip Level
DEMANDING
From USD
$1.395 per person
Start / End
PUERTO NATALES
Spaces:
MIN 2 MAX 8 PEOPLE
Season
SEPTEMBER
OCTOBER
NOVEMBER
DECEMBER
JANUARY
FEBRUARY
MARCH
APRIL
Share this Trip
Itinerary
Day 1
E-Bike Ride Rupestre Patagonia
30 Minute Private Transfer
3 Hour E-Bike Ride, 10 km / 6.2 Miles
30 Minute Private Transfer
Night in Hotel Vendaval (or similar based on availability) (BBQ)
In the morning, your guide and private transfer will pick you up taking you just outside of Puerto Natales to a private reserve not open to the public who frequent the Natural Monument Milodon Cave. Once at our starting point, we begin with a smooth, moderate ride bordering Cerro Queso (Cheese Hill) where we continue riding to a beautiful view of the Sofia Lagoon. On clear days we can see Paine Grande and other surrounding peaks set off among the far reaching fjords. Riding onward, we continue along a path closely bordering the Sofia Lagoon which connects us with Cueva de la Ventana (Window Cave). We continue through eaves and cave paintings left by the ancestors of the Ultima Esperanza until arriving at Dos Herraduras (two horseshoes). We'll take time along our ride to stop and get up close to the history stored deep in these caves and trails.
Once we finish our ride, we'll take a rest to enjoy a delicious, traditional Parrillada (BBQ) in a rustic quincho where we will enjoy delicious foods harvested locally from the region. After great food and good company, we'll head back to Puerto Natales for a wonderful night's rest.
">
Day 2
Navigation of Señoret Channel – E-Bike Bahia Esperanza Outdoor Park
20 Minute Private Transfer
15 Minute Navigation Each Way
4 Hour E-Bike Ride, 10 km / 6.2 Miles
20 Minute Private Transfer
Night in Hotel Vendaval (or similar based on availability) (B-BL)
In the morning, a private transfer will pick us up at 8:30AM, from our hotel or accommodation and take us a short distance to the Puerto Bories dock where a guide of the Estancia Bahia Esperanza Park will be waiting for us to start a navigation crossing the Señoret Channel to the park's entrance located on the Antonio Varas Peninsula. The navigation offers privileged views of the Patagonian fjords with its diverse bird species who will make their presence along the way.
Upon our arrival and after a short welcome orientation about our trail and the park's history, we'll  begin our ride.
Our ride today allows us to explore Bahía Esperanza Outdoor Park by reliving the history through the beautiful Ultima Esperanza Monument – built to represent the bow of a 40 meter (36 ft.) long wooden boat that today stands on the fjords as the main viewpoint of the park. Riding along, we'll have numerous opportunities to see the incredible wild nature and more than 30 species of birds who typically habitat the park. All the while along our ride, we'll have countless views of the imposing mountains, such as the Cordon Montañoso Moore, Cerro Ballena, and Puerto Natales. We'll find a nice point to stop and enjoy our box lunch to re-fuel while enjoying the natural wonders of the park.
By 16:00 hrs we'll meet back at the dock to take the navigation back to Puerto Bories where our private transfer awaits to take us back to our hotel in Puerto Natales.
Day 3
E-Bike Loop of Laguna Azul
1.5 Hour Private Transfer to Laguna Azul
5-6 Hour E-Bike Ride, 24 km /15 mi
1.5 Hour Private Transfer to Puerto Natales
(B-BL)
Early in the morning we depart from Puerto Natales in route to Torres del Paine to the dazzling Laguna Azul – an area abundant in birdlife (watch out for coots, swans, ducks and woodpeckers) and the lagoon offers a great view of the three Towers; mirrored in its blue waters on clear, still days.
Our trail today is entertaining for lovers of all-terrain bicycles who are in good physical condition. This moderate ride along mountainous dirt tracks has some small climbs and hills taking us through native lenga and ñirre woodlands where native birds and animals can be spotted in the wilderness. You will be surprised by the beautiful environment, with the three towers always in sight and the diverse animal life that we will be able to observe throughout the ride as we make our way to Laguna Cebolla (Onion Lagoon) where we will then turn back.
We'll take time to enjoy our lunch with pristine views, and once we are back to Laguna Azul, we'll take a private transfer back to Puerto Natales where our journey ends.
">
INCLUDED
All Private Transportation Indicated in Schedule
Park Entrance to Torres del Paine National Park
Specified Meals Indicated in Schedule (B: Breakfast, BL: Box Lunch)
Giant Talon E-Bike & Helmet
Two Nights Hotel Vendaval (Double Occupancy Rooms)
Vehicle Support As Indicated in Schedule
Local Guide with Knowledge of Mechanics & First Aid
NOT INCLUDED
Any Additional Nights
Dinner Any Night
Medical Expenses
Travel Insurance
Personal Expenses
Alcohol During Meals
Gratuities for Guide/ Driver
Trip length
3 DAYS
Trip Level
DEMANDING
From USD
$1.395 per person
Start / End
PUERTO NATALES
Spaces:
MIN 2 MAX 8 PEOPLE
Season
SEPTEMBER
OCTOBER
NOVEMBER
DECEMBER
JANUARY
FEBRUARY
MARCH
APRIL
Lodgings
Hotel Vendaval
Conveniently located within the principal gastronomic neighborhood in downtown Puerto Natales just 3 blocks away from the waterfront, 1 block from Chile Nativo´s office headquarters, and only half a block from the main square. The hotel has 23 rooms with plenty of natural light and tranquillity along with a gorgeous roof top patio which provides breath-taking views of the city and coast. Accommodations are warmly decorated and each with a private bathroom.
Dates & Prices
Program prices are determined on the final number of confirmed guests in a group. The per person price lowers as more guests join the group. Chile Nativo operates with a maximum of 8 guests per departure which allows for a high level of individualized service and an unforgettable personalized experience.
PRICES FOR SEASON 2022/2023: (valid until April 2023)

2 Guests Total in Group: USD$ 1.695 per person
3 Guests Total in Group: USD$ 1.595 per person
4-8 Guests Total in Group: USD$ 1.395 per person
DEPARTURES AVAILABLE UPSON REQUEST!
FAQ's
Q: What technical & physical level is this ride?
A: If you like to ride on dirt roads and wide dirt trails (ATV or doubletrack), but still do not have the skills and confidence to ride narrow paths with roots, rocks, sharp turns, trees and slopes, then this program is suitable for you as it involves wide open trails easy to navigate. Regarding physical capability – if you feel comfortable and can agree to the following details, then this ride is just right for you!
– You exercise regularly, on average 2-4 hours per week.
– You feel comfortable with sustained pedaling at a relaxed pace for 2-4 hours a day.
– You can pedal 2 or 3 days in a row for no more than 2-3 hours a day.
– You can tolerate pedaling 1 or more climbs of up to 300 meters of elevation gain (660 feet).
– You tolerate short sections where you have to push and / or walk uphill on the bike.
– Your exercise regimen includes a combination of resistance training like biking and strength training.
Q: What size E-Bikes are available for guests to ride?
A: Currently there are 7 bikes available for guests to choose from: 2 small, 3 mediums, and 2 larges. Sizes are as follows: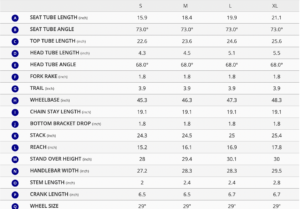 Q: How fast can E-Bikes go?
A: The first thing to remember is that even though E-Bikes have a motor, we are still talking about bicycles here. Also important to understand that they are NOT scooters. In Europe, an E-Bike must have a motor with a maximum power of 250W, assisting the E-Bike to a maximum speed of 25 km/h. In the US (and the types of E-Bikes that Chile Nativo Travel uses), the rules are different. These E-Bike motors can have a max of 500W and assist up to 20MPH (32km/ph). If the pedal support still functions above these limitations, then the bike becomes a so-called speed pedelec (a type of low-powered electric bicycle where the rider's pedalling is assisted by a small electric motor.)
Add-Ons & Upgrades
OPTIONAL ACTIVITIES/SERVICES: (must be booked in advance)
Public bus from/to Punta Arenas: USD$ 20 per person, per way *single guests have option to purchase vacant seat next to theirs if they wish